The INSeaPTION project was represented at the SHF Meetings:
on 21 and 22 November 2019 in Marne-la-Vallée (France).
The presentation focused on the "Impacts of chronic flooding, considering sea-level rise, on the critical infrastructures (airports, harbours…) of French Polynesia Polynesia". This work was carried out within the framework of the co-construction of the Coastal Climate Service n°1 (CCS1) set up in French Polynesia for the INSeapTION project.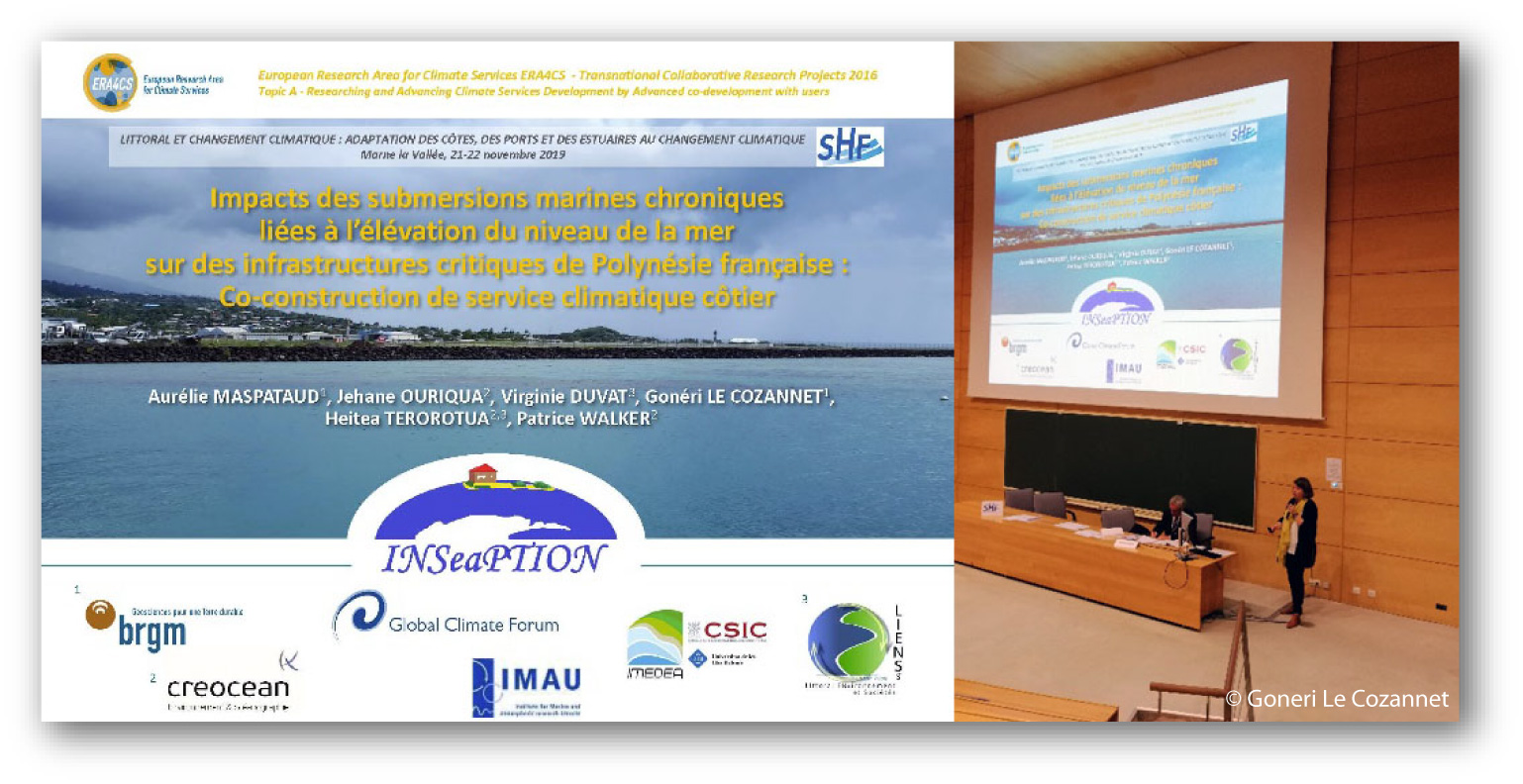 One of the consequences of SLR is the possibility of recurrent chronic flooding (or "nuisance flooding"), occurring at high tide, under calm weather conditions. This is likely to disrupt economic activities depending on harbour, airport, industrial or commercial infrastructures located in low-lying areas. French Polynesia is the perfect example, considering that many major harbour or airport infrastructures are located at very low elevation above sea level.
This co-developed CCS1 is part of a participatory approach and is based on available reference data (e.g. high-resolution lIdar data, tide levels and vertical reference frames, etc.) and considers specific local case studies (airports, harbor docks, international and commercial trade terminals...).  It includes not only the communication of regionalized SLR data in French Polynesia (values ​​and timelines), but also the definition of critical SLR thresholds at different time scales, with users. This could help in determine the specifications to be applied in infrastructure design studies (lowest-highest elevations required, most sensitive areas, choice of technical engineering solutions, renewal of airport operating concession, with a current term of 30 years). CCS1 also highlights critical deadlines for maintaining high levels of protection against chronic flooding, and revealed needs that were not previously formalized. The interest of this CCS1 is based on the fact that he critical infrastructures technical operators/managers have helped the project team to identify information tailored to specific needs that can be mobilized within an operational framework.
Creocean's tweet during the event: https://twitter.com/CREOCEAN_keran/status/1197910128114176001?s=20
---
Full presentation:
Resource (in French):
Conference proceeding (4p):  
Resource (in French):
If you are interested in the topic and further information, follow us on Twitter for more updates: @inseaption.
By: Maspataud Aurélie (BRGM) and Ouriqua Jehane (Creocean)